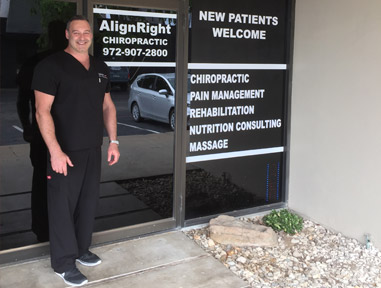 Welcome to AlignRight Chiropractic, your premier health and wellness center. Our chiropractor offices serve the Richardson, Dallas, Plano, Garland, Addison, Carrollton TX region.
At our Richardson Chiropractic office, Dr. Z will tailor a specific treatment plan that utilizes modern chiropractic equipment and techniques to achieve the personal goals set by our clients.
We are the number one chiropractor in Dallas, and that is because we treat just about any muscle and skeleton issue, such as: plantar fasciitis or foot and ankle pain, headaches, back or neck pain, carpal tunnel syndrome, shin splints, shoulder pain, sciatica, knee or hip pain, tennis elbow, groin pain, patella pain, muscle weakness, shooting pain, leg pain, runners knee, IT band, chronic spasm, pain when sitting or standing, numbness in extremities, tingling extremities, calf pain, restless legs, sprains, strains and whiplash.
Schedule your appointment today!
Fill out this form and we will contact you shortly!