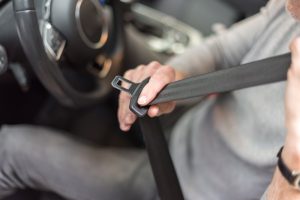 Your car has many safety features. Some are built-in, some are automatic and one works only if you use it—the seat belt. There have been dozens of studies conducted proving that seat belts save lives. So if you want to avoid injuries—and possibly even death—in case you're in an auto accident in Richardson, then you better buckle up!
Seat Belt Statistics
Let's take a look at some of the statistics behind those studies showing that seat belts save lives.
In 2015, there were 35,092 accident-related deaths in the United States. Of that total number, 48 percent were not wearing seat belts when they were involved in a fatal car accident. However, an estimated 13, 941 people were saved because they had their seat belt on.
What about injuries? Front seat passengers in a car that gets into an accident are 50 percent less likely to suffer a moderate to critical injury and 45 percent less likely to have a fatal injury.
In the United States, the seat belt usage rate is 90.1 percent. That's pretty high. However, the 9.9 percent of Americans that choose not to wear seat belts make up 48 percent of the deaths in auto accidents.
How Does a Seat Belt Work?
To understand how a seat belt works, let's consider what happens to your body when you're in a car. Basically, when the car is moving, your body is moving at the same rate of speed. So if you're doing 75 on the highway, then your body is also moving at 75 miles per hour.
A car accident only stops the car—not your body, which still has forward momentum. Without anything to hold you in your seat, your body will go flying forward and collide with part of the car or even be ejected from the car.
A three-point seat belt holds your body in place during an accident. The Y-shape of the belt disperses your body's momentum into your chest, shoulders and pelvic area. You may end up sore and bruised, but you will still be in your seat.
Other benefits of wearing a seat belt include:
Not being ejected from the vehicle during a collision
Not colliding with the steering wheel, dashboard, windshield or any other part of the car
Dispersion of force to parts of the body that are more durable
The deceleration of your body
Wearing a seat belt when you're in an auto accident doesn't mean you won't sustain any injuries. For those aches and pains after a crash, make an appointment with a chiropractor in Richardson. There are many ways to treat or even prevent serious pain.
Meet the Doctor
Dr. Zinovy Chukhman provides chiropractic treatment after a car accident in Richardson. He is trained and experienced in helping people recover from injuries sustained in car accidents. If you need relief, call the office today to schedule an appointment.
Schedule your appointment today!
Fill out this form and we will contact you shortly!