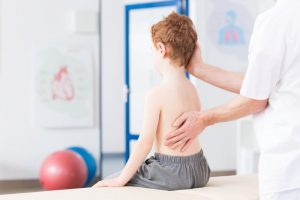 Stand up straight! Didn't everyone's mother tell them that when they were a kid? Well, turns out mom was right. Good posture and good health are connected. Some people, however, simply cannot stand up straight because their spine is curved. In some cases, the condition is called scoliosis. Read on to learn more about scoliosis, the symptoms and treatment from your wellness doctor in Richardson, Dr. Zinovy Chukhman.
What is Scoliosis?
The human spine is constructed of small bones called vertebrae. They are stacked one on top of the other. Everyone's spine has a slight curve that allows you to bend and move. However, in people with scoliosis, the spine curves too much and may remind you of the letters "C" or "S."
In most people, the curve is hardly noticeable and does not affect health or appearance. However, scoliosis can get worse over time, leading to back pain and other health concerns.
Who Does Scoliosis Affect?
Scoliosis is found in children and adults. In fact, some children are born with the condition while adults can develop scoliosis later in life. In most cases, the cause is not known.
What are the Childhood Symptoms of Scoliosis?
Children who develop scoliosis are usually between the ages of eight and 10 years old. Unfortunately, symptoms can worsen as children grow. Here are some telltale signs of scoliosis in kids:
Shoulders that are not the same height
Head is off-center to the rest of the body
One hip higher than the other
Ribs that protrude
Arms don't hang straight alongside the body
The two sides of the back are different heights when the child bends forward at the waist
Of course, these changes in a child's spine may not only impact their overall health, but also their self-esteem.
What are the Adult Symptoms of Scoliosis?
For adults who have had scoliosis since their teenage years, the curve may become more pronounced as they age. Scoliosis may also develop in adults as the result of wear and tear that harms bones and joints in your spine. Eventually, the disks in between the vertebrae start to thin. As this happens, your spine may begin to curve and put pressure on nearby nerves, causing pain, weakness and numbness. Other symptoms include uneven shoulders or hips, difficulty walking and standing up straight, loss of height, shortness of breath and feelings of fatigue.
Chiropractic Treatment of Scoliosis
Scoliosis treatment in Richardson includes spinal and postural screenings. Then, depending on the patient's case of scoliosis, Dr. Chukhman will recommend therapy that may include scoliosis massage, chiropractic treatment for scoliosis, and exercise and stretches.
If you or a loved one is experiencing any of the symptoms mentioned above, please contact Align Right Chiropractic.
Meet the Doctor
Dr. Zinovy Chukhman is a chiropractor in Richardson, Texas. He and his team at Align Right Chiropractic offer a variety of services to restore health and wellness, including chiropractic care, massage therapy, nutritional counseling and spinal decompression and rehabilitation.
Schedule your appointment today!
Fill out this form and we will contact you shortly!