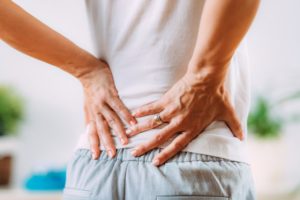 Despite the high gas prices, you and your family have just returned from a road trip this summer. You had tons of fun together, but you spent hours sitting in the car, and now you're paying the price. Your lower back and legs hurt—a lot. Perhaps it's not just a passing issue but something more serious like a sciatica flare-up. In this post, you'll learn more about sciatica, how it starts, and what to do about it!
What Is Sciatica?
Sciatica is a condition in which the sciatic nerve is compressed. As the largest in the body, this nerve is located in the lumbar spine, or the lower back, and extends into the legs. Many people who suffer from sciatica report having numbness and/or pain radiating from the pelvis into their legs.
Causes of Sciatica
Although all causes lead to compression of the sciatic nerve, there are actually many ways that this can happen. Aside from traumatic pelvic fractures or injuries, causes include the following:
Bulging or herniated disc
Vertebrae misalignment
Spinal stenosis (narrowing of the spine with age)
Poor posture
Carrying extra weight
Blood clots
Overall, most of the cases of sciatica occur in patients over the age of 40, and this condition often afflicts those who must maintain an awkward or uncomfortable position for prolonged periods of time, such as truck drivers or machine operators. There are also other less common causes, such as a tumor pressing on the nerve or nerve disorders.
Treating Sciatica
Although sciatic nerve pain can be remedied in the short term, it can flare up every now and then when provoked. Unfortunately, there's little you can do on your own if you have this condition. Without professional treatment, sciatica can lead to permanent nerve damage, loss of control of the bladder and bowels, or loss of feeling in the affected leg. Needless to say, it's a serious problem that needs to be addressed sooner rather than later!
When you work with a chiropractor on a regular basis, you can resolve many of the causes that lead to sciatic nerve pain. For instance, this professional can help you overcome the effects of bad posture, teach you how to sit and stand without harming your nervous system, and realign your spine for less pain.
In the end, if you are struggling with sciatica, for whatever reason or cause, you should turn to a trusted professional for help. Your chiropractor can relieve your symptoms and ease the pressure off your sciatic nerve.
About the Author
Unlike many other chiropractors in the area, Dr. Zinovy Chukhman is certified in all four parts of the National Board of Chiropractic Examiners certification. With various techniques at his disposal, he can treat sciatica as well as other problems with nerve or back pain. If you would like to schedule an appointment, you can call the office at 972-907-2800 or contact us online here.
Schedule your appointment today!
Fill out this form and we will contact you shortly!