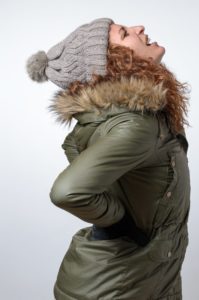 Let's be honest—winter isn't your favorite season. At first, it can be fun to have a cold setting for the holidays with a nice, warm cup of hot chocolate or apple cider in the chilly weather, but the novelty quickly wears off. After the festivities are over, everything you don't like about winter becomes obvious. Among these many reasons, back injuries are a serious concern this time of year. What exactly is the cause of back pain in the winter? What can you do to prevent hurting yourself? Read on to find out!
Slips and Falls
Watching snow fall may feel magical in the moment, but it usually comes with a host of potential dangers. Icy patches are prime spots for slipping and injuring your back. In fact, spinal injuries are among some of the most likely injuries you can experience in winter. Even if you live in an area where ice and snow aren't necessarily common during winter, your overall risk for injury increases this time of year because of slippery, wet floors.
As much as possible, when you come indoors, dry your shoes off. When going up or down stairs, hold onto the handrail for more stability, and pay close attention to the flooring you're stepping on.
Avoiding Exercise
When it's cold outside, many people hunker down indoors as much as possible. That means they don't go out running or to the gym as they might otherwise do. Unfortunately, this can lead to more back issues because exercise strengthens muscles and keeps them flexible. If you hate being out in winter weather and aren't active, your risk of a back injury increases.
Although you may want to curl up in a blanket all day, you need to either brave the cold or exercise from home to maintain an active lifestyle and help prevent back pain.
Risk of Depression
Does the cold, dark, and gloomy winter weather affect your mood? You're far from being alone; in fact, there's even a condition for more serious cases—seasonal affective disorder. When you're feeling down, especially on a consistent basis, your body produces less of the "happy chemicals" in your brain and is therefore more prone to injury and pain, including back pain.
Even though you have no control over the weather, you can help boost your mood. Meditate, color, or find another stress-relieving activity that can help you overcome the winter blues. Also, consider talking to a friend or a therapist who can assist in your mental health.
If you do suffer a winter-time injury to your back, you can always turn to an experience chiropractor, who can help restore proper spinal alignment and relieve your pain. By taking these extra steps, you may be able to avoid hurting yourself and enjoy winter a little more this year!
About the Practice
With more than 20 years of experience in rehabilitation, Dr. Zinovy Chukhman knows how to help patients who experience back pain. He is certified in all four parts of the National Board of Chiropractic Examiners certification program. Proficient in many techniques, he utilizes his years of advanced training to relieve pain, rehabilitate, and improve quality of life. If you have questions about winter injuries, you can contact Dr. Z at AlignRight Chiropractic online.
Schedule your appointment today!
Fill out this form and we will contact you shortly!