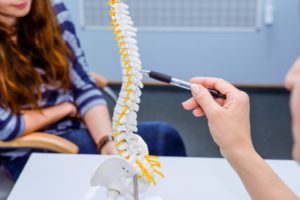 As you get older, there are certain problems you should get screened for, such as several kinds of cancers. You also visit the dentist twice a year to check for any signs of dental problems, even if you aren't in pain. The same concept can apply to your spine with a postural screening. Keep reading to learn what this is, what to expect, and why you need it!
What Is a Postural Screening?
Chances are you have had a postural screening before. In school, the nurse had everyone bend over so they could inspect your spinal alignment. Although they were looking for abnormalities like scoliosis, this simple screening also allowed them to identify potential posture problems. By having this screening early in life, these problems could be discovered and addressed sooner rather than later when it's harder to make adjustments.
Essentially, a postural screening is an appointment where a medical professional, namely a chiropractor, looks at your spine to check if everything is lining up correctly. Even though the most common screenings happen to children and teenagers, adults should also be periodically screened.
What Happens During a Postural Screening?
When you go in for a screening, your chiropractor evaluates your spine, joints, and the muscles that stabilize them. They will also have you do several exercises showing your range of motion and spine alignment, test out your stress points, ask you about any tender areas, and identify any other problems.
This visit usually takes a total of 30 minutes, if the chiropractor doesn't see anything out of the ordinary, but they may need more time with you for a full diagnosis.
Why Do You Need a Postural Screening?
If you've had a screening back in school, you may be wondering why you need more of them when you've stopped growing. The truth is that you can develop poor habits over time, including how you hold yourself in the sitting or standing position. Unfortunately, most people hunch over to look at a computer screen or phone for several hours every day, affecting posture and leading to neck and back pain as well as other ailments.
Getting a posture screening can help you identify where you could improve your posture and possibly reduce your back pain.
In the end, even if you aren't experiencing back pain currently, errors in your posture could lead to problems down the road. It's important to get this screening every now and then to lessen the discomfort they cause and even help you avoid issues altogether.
About the Author
Dr. Zinovy Chukhman has been treating patients for rehabilitation for about two decades. He is certified with the National Board of Chiropractic Examiners and is proficient with many techniques and methods. In addition to therapy, he and his team at AlignRight Chiropractic can perform postural screenings and teach exercises that can help promote healthy posture. To schedule an appointment with Dr. Z, contact AlignRight Chiropractic online or call the office at 972-907-2800.
Schedule your appointment today!
Fill out this form and we will contact you shortly!