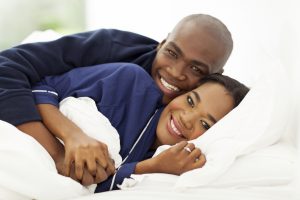 How can sleeping affect your neck and back pain? In so many ways. Not only do you need to get enough sleep, but you also need to be aware that your sleeping position can help or worsen your pain. That's why Dr. Chukhman offers the following tips as part of your pain management in Richardson.
For Neck Pain, Sleep on Your Side or Back
Sleeping on your side or your back are the two positions that are easiest on the neck. If you tend to sleep on your back, then be sure to use two pillows—one that is rounded to support the natural curve of your neck and another flatter pillow under your head.
There are special pillows for back sleepers that have built-in neck support. However, if you want to continue using a favorite pillow, try inserting a small neck roll into the pillowcase.
Here are some other tips to help ease neck pain while you sleep:
If you're not allergic, sleep on a feather pillow, which conforms to the curve of your neck.
Use a memory foam pillow that is designed to conform to the shape of your head and neck.
Don't sleep on a pillow that is too thick or stiff. This causes your neck to be in an awkward position that can lead to morning pain and stiffness.
Carry a horseshoe-shaped pillow with you if you're about to go on a long plane, train or auto ride. Sleeping while you're sitting upright often exacerbates neck pain.
Ease Back Pain
While you certainly need to be comfortable in order to get a good night's sleep, lying on your stomach is probably the worst for back pain. Why? Because in this position, your upper back tends to arch slightly upward, thereby putting strain on your lower back.
In addition, sleeping on your stomach means that your neck is rotated, which can lead to neck pain or discomfort between the shoulders.
If you do sleep on your stomach, try placing a thin pillow under your lower abdomen and pelvis in order to relieve lower back strain.
Choosing the Right Mattress
There really is no one-size-fits-all when it comes to mattresses. Some people prefer a firm mattress while others prefer the feeling of being cocooned in a soft mattress.
If there's a mattress store that will let you try before you buy, that's the best option. And don't forget to rotate and flip your mattress about every three months. A mattress that is more than 10 years old should be replaced.
Try these sleep tips and if you still need help with neck or back pain, schedule a visit with the "chiropractor near me" in Richardson, Dr. Zinovy Chukhman.
Meet the Doctor
Dr. Z is a chiropractor in Richardson, TX and serves patients from Plano, Garland, Dallas and the surrounding communities. If you are experiencing any kind of chronic pain, then call the office today.
Schedule your appointment today!
Fill out this form and we will contact you shortly!