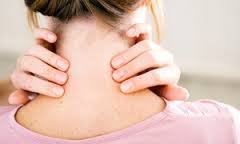 What a pain in the neck. No, seriously—we're talking about that pain in your neck. Sometimes that pain can be due to age-related wear and tear or an accident. These causes warrant seeing your chiropractor for neck pain treatment in 75080. However, there are other factors that could be contributing to your neck pain including how you sleep at night and the pillow you use. Read on to learn more about how to get a better night's sleep without hurting your neck.
Neck Pain and Your Sleeping Position
There are two sleeping positions recommended to ease pressure on the neck: sleep on your side or on your back. If you're a back sleeper, then choose a small, rounded pillow to support the natural curve of your neck and a flatter pillow for your head. There are now special pillows available that have neck support built-in with a flatter surface or indentation for your head. Alternatively, you can make your own by inserting a small neck roll into a pillowcase along with a flatter and softer pillow.
What if You Sleep on Your Stomach?
Sleeping on your stomach is not the optimal choice if you have neck or back pain. When you lie on your stomach, your back arches and your neck is turned to the side. The position you like best for falling asleep is often established at a very young age during childhood. In addition, we all move during sleep so the position you fall asleep in will not necessarily be the position you wake up in. Even so, try starting out on your back or side, either position is preferable to sleeping on your stomach if you have neck or back pain.
Tips for a Good Night's Sleep
If you're not an allergy sufferer, then try sleeping on a feather pillow, which will conform to the shape of your neck. These do tend to flatten over time, so be sure to replace a feather pillow yearly.
Memory foam pillows are also popular among people with back and neck pain. These conform to the contours of your head and neck.
Do not use a pillow that is too firm or too high. This will cause your neck to be flexed overnight, resulting in pain and stiffness in the morning.
If you are a side sleeper, be sure to tuck a pillow under your neck that is slightly higher than the pillow under your head. This will help to keep your spine straight.
Most people think that those funny horseshoe-shaped pillows are just for when you travel. However, they can be great at home, too, when you're reclining or watching television. These pillows support your neck and stop your head from dropping forward or to the side if you should happen to fall asleep.
If you require neck or back pain treatment in Richardson, call a chiropractor for comprehensive care.
Meet the Doctor
Dr. Zinovy Chukhman is a chiropractor in Richardson, Texas. He and his team at Align Right Chiropractic offer a variety of services to restore health and wellness, including chiropractic care, massage therapy, nutritional counseling and spinal decompression and rehabilitation.
Schedule your appointment today!
Fill out this form and we will contact you shortly!