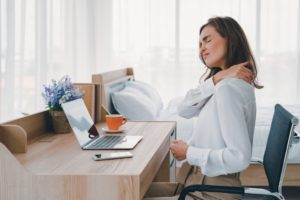 After working a long day in your home office, you're feeling a little mentally tired, but more than anything else, your neck is killing you! Perhaps you've been dealing with this problem for a long time with little relief. Understanding more about neck pain and what your chiropractor can do to help will give you the resources you need to seek professional help!
What Can Cause Neck Pain?
Neck pain can originate from several different sources. For instance, slouching in front of a computer or looking down at a phone screen for many hours at a time puts immense stress on your neck and upper back muscles. Because these tasks are such an integral part of modern life, neck pain happens at some point for most people.
An injury from a car accident like whiplash can also leave you with severe pain that could last for weeks, months, or even longer without treatment.
What Can You Do about Neck Pain?
In all honesty, there is a limit to what you can accomplish on your own when it comes to reducing your neck pain. You can start by correcting your sitting posture so that your head isn't pulled forward toward a screen. As much as possible, you can shorten the time you spend looking at screens. You can also apply heat to the neck and upper back areas.
What Can Your Chiropractor Do about Neck Pain?
When you have neck pain, regardless of the cause, your chiropractor is the professional who can help you overcome the discomfort at the source. They can ease your spine, upper back, and neck back into proper alignment, taking the pressure off these muscles. With everything aligned correctly, your body has less inflammation and pain.
In addition to realignment, your chiropractor can also show you appropriate posture for sitting at a desk and working on a computer as well as looking at a phone. They will advise you to take frequent breaks and to reset your posture often. They can also teach you stretches and exercises to do at home to strengthen these muscles. If you follow their guidance and receive treatment, you can lower your chances of having neck pain in the future.
Ultimately, whether you have neck pain from a car wreck or just day-to-day living, you don't have to suffer with it in silence. Neck pain is treatable with the right care and professional, so talk to your chiropractor and live beyond neck pain!
About the Author
Dr. Zinovy Chukhman, who is often called Dr. Z by his patients, studied at the prestigious Parker College of Chiropractic in Dallas and is certified by the National Board of Chiropractic Examiners. Over his career, he has become trained in many techniques, including flexion-distraction, Diversified, and more. Would you like to meet with Dr. Z about your neck pain? Get in touch with our team in Richardson at AlignRight Chiropractic online or by calling us at 972-907-2800.
Schedule your appointment today!
Fill out this form and we will contact you shortly!