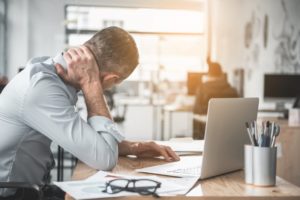 It's just a little neck pain. Maybe you slept funny last night, and you woke up unable to turn your head very far to one side. It's not a big deal, right? You can "be tough" and work it out on your own, can't you?
Instead of trying to overcome this pain by yourself, you should meet with a chiropractor to deal with your neck pain head on. When you understand more about neck pain and how this professional can help, it's a no-brainer! So continue reading to learn why chiropractic care is essential to recover from this symptom.
What Can Cause Neck Pain?
Supporting the head is an incredibly important job for your neck. It must hold at least eight pounds of weight, and it houses the top portion of the spinal cord before it extends downward. Needless to say, it's a small area, but it can create huge problems.
If you spend a lot of time looking down at your phone, slouching or having poor posture, or sleeping with your neck bent instead of straight, the muscles and ligaments involved with neck movement and stability can become strained. As a result, you can experience severe neck pain even in the smallest motions.
How Can a Chiropractor Help with Neck Pain?
As an expert in the nervous system, a chiropractor is the perfect care provider for addressing neck pain. They can provide spinal alignment adjustments to correct improper posture in your spine, release tension held by your muscles, and teach healthy stretches and exercises to relieve pain.
Although you may not be "cured" in a single appointment, over time, a chiropractor can take away your neck pain and help you lead a healthier, more fulfilling lifestyle overall without having intense, unbearable neck discomfort.
What Could Happen If You Don't See a Chiropractor?
In many cases, people who have neck pain and don't work with a chiropractor simply have to live with this symptom. Eventually, a hurting, stiff neck from sleeping incorrectly may work its way out, but often, the situation either stays the same in the long term or may even get worse because no one addresses the cause behind the pain. As long as the spine and its supporting structures are not corrected, the pain will continue to come back again and again.
Ultimately, if you find yourself in a position where you have neck pain for more than a day or two, you don't need to suffer. Your chiropractor can release tense upper back and neck muscles, make sure your spine is correctly aligned, and give you skills necessary to avoid and treat neck pain at home!
About the Author
Dr. Zinovy Chukhman has treated injured patients for more than 20 years in rehabilitation. He is one of very few chiropractors who have completed all four parts of the National Board of Chiropractic Examiners certification. In addition to other methods, he is proficient in Graston, flexion-distraction, Gonstead, and Diversified techniques. To schedule an appointment with him at AlignRight Chiropractic, call the Richardson office at 972-907-2800 or reach out to us online.
Schedule your appointment today!
Fill out this form and we will contact you shortly!