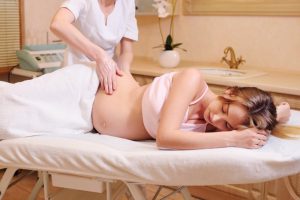 Congratulations! Pregnancy is such a special time. It can also be a time of anxiety and a few aches and pains. Be sure to take good care of yourself. In fact, you may want to consider prenatal massage. This type of massage therapy in Richardson is similar to regular massage, but is designed especially for the changing body of a pregnant woman. Read on for more information.
What is Prenatal Massage?
Just like standard massage, prenatal massage is meant to relax tense muscles, comfort sore areas of the body, and improve circulation and mobility. In addition, prenatal massage is customized to accommodate pregnancy and what carrying a baby does to your body.
When you're pregnant, your center of gravity shifts, putting added stress on your back, neck, abdominal muscles and shoulders. In addition, your pelvis moves forward and your posture changes, as well. Add those extra pregnancy pounds, and all of these effects can lead to lower back pain.
A prenatal massage therapist has special training in order to know how and where to massage in order to provide relief.
What Are the Benefits of Prenatal Massage?
Research on the benefits of prenatal massage is not extensive. However, many women do report that a session:
Improves mood
Lowers stress
Reduces prenatal depression and anxiety
Reduces swelling in legs
There is also evidence to support the notion that prenatal massage lowers the risk of preterm birth and low birth weight in infants in women with depression. And let's face it—a massage can just make you feel good as you face all the changes in your life that are about to happen.
How Will the Massage Be Performed?
Normally, you would lie face down on a special table for a massage. Needless to say, that isn't possible or comfortable when you're pregnant. More than likely, your prenatal massage will be performed while you lie on your side. Pillows, wedges and a full-length body pillow can be used for support.
If you do decide to have a prenatal massage, be sure to tell the therapist which areas of your body are causing discomfort. And be sure to speak up if anything hurts or is uncomfortable during the massage!
Enjoy this special time, and contact your chiropractor for massage therapy or pain management in Richardson.
Meet the Doctor
Dr. Zinovy Chukhman provides chiropractic treatment for a variety of patient needs. If you need relief from the aches and pains of pregnancy, call the office today to schedule an appointment.
Schedule your appointment today!
Fill out this form and we will contact you shortly!