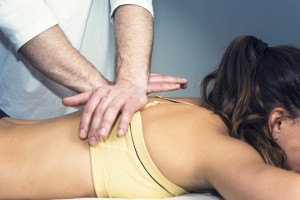 When most people think of a chiropractor, thoughts immediately turn to help for back pain. That's true, but your 75080 chiropractor can do so much more to help you maintain good health. Richardson chiropractor Dr. Zinovy Chukhman, or Dr. Z as patients like to call him, wants you to be informed about what his practice really does and how he helps people of all ages. Read on to learn more.
Chiropractor Adjustments and Your Nervous System
Your body's nervous system originates in your spinal cord and controls every bodily function. Signals through the nervous system may become disrupted if the joints surrounding the spinal column are not properly moving. Thus, there is a relationship between when spinal nerves exit the vertebra and travel to various organ systems. Therefore, Dr. Z may treat a patient with mid-back pain who also suffers from an irritable bowel disease.
Your Body is Designed to Heal Itself
To tell you the truth, Dr. Z doesn't actually "fix" anyone's back. He merely restores proper motion in the joints, which relieves pressure on the nerves and muscles so your body can heal itself. As a chiropractor, Dr. Z knows that all disease comes from a disruption in the nervous system. With chiropractor adjustments in Richardson, proper nerve flow is restored so the body can heal and continue defending itself against disease.
Treatment Beyond the Back
Did you know that Dr. Z can give you advice in a number of areas other than chiropractic care? As a chiropractor, Dr. Z. is trained to help patients with better nutrition, corrective exercises, lifestyle changes, rehabilitation, massage therapy and spinal decompression. If there is anything that concerns you about your health, ask Dr. Z. He may be able to help or he will refer you to the correct professional.
Dr. Z: A Chiropractor for All Ages
If you're a senior, then chiropractic care with Dr. Z. may not only relieve aches and pains, but can help with increased range of motion, balance, coordination and decreasing joint degeneration.
Many parents bring their young children to see Dr. Z, too. Chiropractor adjustments in Richardson support overall health, as well as proper brain and nervous system development. In addition, Dr. Z has helped children who have colic, asthma, allergies, sleeping problems and behavior disorders.
Don't Wait for the Pain
Pain is usually the final sign that there is a problem. Your spine may be restricted or unstable for months before the pain arrives to tell you something is the matter. Listen to your body. If you suspect there is a problem then contact Dr. Z. And remember: good health is not necessarily the absence of pain. You can take a pill to relieve the pain, but the dysfunction causing the pain is still there. See your 75080 chiropractor for a solution.
Call Your 75080 Chiropractor Today
If you would like to schedule an appointment with Dr. Z, contact AlignRight Chiropractic in Richardson, TX.
Schedule your appointment today!
Fill out this form and we will contact you shortly!