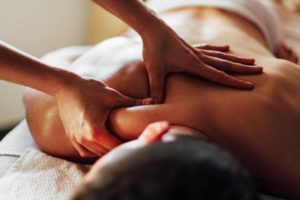 You've suffered from back pain for a while now, and you're sick of it. You decide to visit a chiropractor to see what can be done to relieve your discomfort and enable you to do more. You don't want a band-aid fix, but a long-term solution that will ease your pain and help you live your best life. When the chiropractor explains his recommendation for your treatment, you're a little surprised to hear him suggest combining chiropractic care with massage therapy in Richardson. In this post, you'll learn how these therapies are connected and how this tandem approach can benefit your overall health.
What Massage Therapy Does
A massage is about much more than soothing candles, smooth music, and someone rubbing your back. There's a reason you feel so relaxed when you're finished having a real massage. This kind of therapy is geared to help tight muscles and tendons release the tension and stress. Using gentle pressure, a skilled professional can increase blood flow to a specific area, target trigger points that cause pain, and relax muscles using techniques you won't get during a massage from your significant other or an amateur massage.
What Chiropractic Treatment Does
On the other side of the coin, chiropractors work to fix misalignments in the spine and other joint restrictions. Basically, they deal with the hard tissues of the body. By adjusting the alignment and compression of the musculoskeletal structure while also positively affecting and protecting the nervous system, your chiropractor in Richardson is able to provide relief and ensure that your body is in a position to function optimally.
Like massage therapy, chiropractic care is drug-free and noninvasive treatment. By resetting spinal and joint alignment, your chiropractor encourages the body to heal itself. In fact, in some cases, patients may avoid the need for surgery through this kind of care.
Working Together for Overall Wellness
The soft tissues and your joints are closely connected and can easily impact the function of the other. For instance, when certain muscles are tight, they can pull joints or vertebrae out of alignment or cause other dysfunctions. One of the best benefits of mixing massage therapy and chiropractic physiotherapy is that both become more effective when combined. Relaxing tight or stressed muscles before an adjustment can make this treatment more productive and expedite healing. As a result, you can enjoy improved mobility and range of motion, greater function and relief, and a higher quality of life.
The next time you have back or neck pain, or an injury from an accident, consider getting treatment from both a massage therapist and a chiropractor. Together, they can help you recover and do more of the things you want and need to do with much less pain.
About the Practice
AlignRight Chiropractic is proud to have such highly qualified and trained professionals on staff. Dr. Zinovy Chukhman (or Dr. Z) has been a practicing chiropractor with decades of experience and continuing education. He has earned all 4 parts of the National Board of Chiropractic Examiners and NBCE Physical Rehabilitation certification. If you have questions about massage therapy and its role in chiropractic care, or if you would like to schedule an appointment, you can contact Dr. Z by clicking here.
Schedule your appointment today!
Fill out this form and we will contact you shortly!