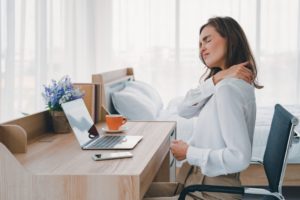 After a long day at the office, you pack up to go home. In the car on your way home, you turn your head to look for pedestrians but then find that you can't! Your neck is in serious pain and you have limited range of motion. In this blog post, you'll learn what your neck does, some of the reasons why it might be hurting you, and ways to address the problem with the help of neck pain treatment with your chiropractor.
Why Your Neck Matters
Although neck function isn't usually at the top of the list of importance, your neck serves an extremely valuable purpose. The muscles in your upper back and neck stabilize your head, which weighs around 12 pounds. Carrying this much weight every day in and of itself is a challenge, but considering that the neck stabilizes the brain means it is even more crucial. Plus, your neck's range of motion determines your ability to see beyond what's directly in front of you, affecting how well you can perform at work as well as in other areas of life.
Why Your Neck Hurts
Your neck's capacity to move allows for greater function, but it also can increase the chances of pain. More specifically, holding your head in one position for a prolonged period of time can stiffen the neck muscles and lead to neck pain or even headaches. For instance, if you lean toward a computer screen or look down at your phone throughout the day, every day, you are more likely to experience neck pain. Whether chronic or acute, neck pain can make any function more challenging to say the least.
How to Address Neck Pain
Online you can find plenty of exercises and stretches to help loosen tight neck muscles. For example, sitting or standing straight, you can place your right hand on top of your head and slowly tilt it toward your right shoulder. This should create more flexibility on the left side of your neck and should be replicated with your left hand.
While these DIY therapies can be helpful in reducing your neck pain, visiting an experienced chiropractor is one of the best decisions you can make. Not only can they teach you proper posture and stretches you can do at home, but they can realign your cervical spine to take pressure off certain nerves. In fact, chiropractic alignments can accelerate the healing process and relieve pain much sooner than trying to resolve the issue by yourself.
You don't have to suffer from neck pain. Taking care of the problem right away with your chiropractor can help you continue to function as you need to without the discomfort. In other words, these periodic visits can help you enjoy the use of your neck for years to come!
About the Author
Dr. Z, as he prefers to be called, has been practicing in the Dallas/Richardson area for about 20 years. He is certified in all four areas by the National Board of Chiropractic Examiners, and he is proficient in various techniques, including flexion-distraction. He treats many symptoms of spinal misalignment, such as neck pain, can finds great satisfaction in helping patients leave with less pain than when they came in. To schedule an appointment with Dr. Z at Align Right Chiropractic, you can contact us online or call 972-907-2800.
Schedule your appointment today!
Fill out this form and we will contact you shortly!