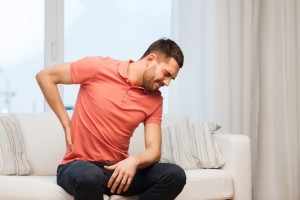 "Oh, my aching back!" The line may be cliché, but if you're in pain, there's nothing cliché about that. You need relief as quickly as possible. Fortunately, Dr. Zinovy Chukhman is on your side. As a skilled chiropractor, he offers several modes of treatment to relieve your pain and discomfort. Read on to learn more about pain management in Richardson.
What Causes Back Pain?
Back pain can be acute, in which case it comes on suddenly and lasts for six weeks or less. On the other hand, there is chronic back pain that lasts longer than three months. This is far less common than acute back pain, which may be caused by:
Injury due to a car accident
Strain on back muscles and spinal ligaments
A bulging or ruptured disk that presses on a nerve
Arthritis
Scoliosis or other skeletal irregularities
Osteoporosis
What Are the Risk Factors for Back Pain?
Back pain can strike anyone. Even young children and teenagers are susceptible, especially if they've been involved in a car accident. Nevertheless, research indicates that people over the age of 40 who are overweight and don't exercise are more likely to suffer from back pain. In addition, improper lifting—using your back instead of the strong muscles in your legs—psychological conditions such as anxiety and depression as well as some types of cancer can all be contributing factors.
What Should I Do about My Back Pain?
When you come to see Dr. Z for back pain, the more information you can provide, the better he will be able to pinpoint the cause and create the appropriate treatment plan. If you've been in a car accident, then he'll need to know details such as the direction you were traveling and the direction of impact. Other information is also important including:
A list of your regular medications, vitamins and supplements and their dosages
Recent injuries to your back
Personal information including lifestyle choices, mental health and emotion stressors
What Are My Treatment Options?
Depending on the diagnosis, Dr. Z may combine several forms of treatment including chiropractic adjustments, rehabilitation, a home exercise regimen, massage therapy and spinal decompression. Nutritional advice may also be part of your treatment in order to deliver essential vitamins and minerals to healing muscles and ligaments.
Contact Our Office Today
If you are experiencing back pain, there is no need to endure the discomfort. Dr. Z is your "chiropractor near me" that offers a variety of treatments to give you relief. Call Alignright Chiropractic today to schedule an appointment.
Schedule your appointment today!
Fill out this form and we will contact you shortly!