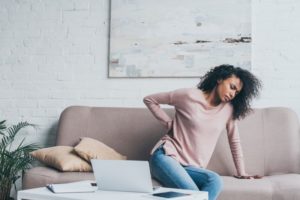 In 2019, the average worker had a commute time of just under 28 minutes. Needless to say, that time has changed since the beginning of the COVID pandemic. Instead of spending that time in your car or on a bus or train, now you may simply walk to the dining room table or the living room couch. There have been many perks to working from home, but there have also been plenty of challenges, including more neck and back pain. Read on to learn several ways you can make working from home better for your posture and spinal alignment.
Find a Comfortable Chair
Many workers have had to improvise their work arrangements since bring work home. Instead of an ergonomic setup in the office, people have had to sit on dining or kitchen chairs, couches, or beds. If you are unable to use an official desk chair, you can make whatever seat you use more ergonomic. For instance, you can roll up a towel and put it against the lower curve of your back to provide lumbar support. You can also have cushions or pillows to make your chair softer and more comfortable. Just make sure your alterations allow you to have proper posture.
Adjust Screen Height
In a perfect world, you would be able to adjust the height of your computer monitor to be level with your eyes. This position prevents you from looking down or bringing your head in more forward position. Since the pandemic, many at-home workers have been using laptops. You can still make the best of this situation. While you can't raise the screen alone, you can lift the entire laptop and take advantage of a USB keyboard and mouse, so that your eyes and your arms can all be positioned properly.
Take Breaks Regularly to Stretch
About every hour, you should get up, walk around, and stretch your muscles. These breaks don't need to take much time, but they can help you reset your posture and take pressure off your neck and back. If possible, consider finding a spot where you can work standing up, as long as you're able to do so without bringing your head forward.
Exercise
When gyms closed, you may have found it difficult to stay active. However, your body, specifically your core, needs to remain strong to avoid back and neck pain. Even little exercises throughout the day can make a big difference in helping you avoid pain.
Even when the pandemic eventually ends, it seems working from home will become a permanent part of the workforce moving forward. You need to create a useable, comfortable workspace that enables you to be productive without causing you pain. By following these tips, you can get your work done and stay healthy!
About the Author
With more than 20 years of experience, Dr. Zinovy Chukhman or Dr. Z has treated patients from every profession, including professional athletes. He has received training in many techniques, including Gonstead, Thompson, and flexion-distraction. His primary goal is to relieve pain and get patients back to health. If you have questions about neck or back pain, or if you would like to schedule an appointment with Dr. Z, you can contact AlignRight Chiropractic online or call the office at 972-907-2800.
Schedule your appointment today!
Fill out this form and we will contact you shortly!