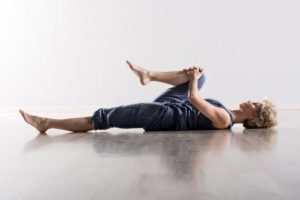 Did you know that the largest nerve of your body, called the sciatic nerve, starts in your lower back and extends down into your buttocks and the back of your legs? About 40 percent of Americans experience sciatica at some point in life, but is there a way to treat sciatica naturally? Yes! In fact, below are five natural ways to manage this situation and feel better!
Apply Ice
In some scenarios, applying heat can be a relaxing way to deal with pain. However, sciatica involves inflammation, which is only exacerbated by heat. In this scenario, ice controls blood flow to the area, giving you relief from sciatic pain.
When applying a cold pack, lie down and put it on your lower back for about 20 minutes, and then place it back in the fridge or freezer for about 20 minutes. Repeat the process a couple of times for best relief and healing.
Rest and Sleep
Often sciatica is the result of being in an unnatural or non-ergonomic position for long periods of time. As a result, taking the pressure off your sciatic nerve can provide relief. In addition, if you want to heal anything in your body, you need to get quality sleep. Before you drift off to sleep, make sure you find a position that allows your spine to be aligned correctly and comfortably so you can wake up feeling refreshed and ready to take on another day.
Drink Lots of Water
Inflammation anywhere in the body only gets worse if you're dehydrated. Make sure you get enough water throughout your day so that your body can heal itself and function at its best. An easy way to calculate how much you need, you should drink roughly half of your weight in fluid ounces. For instance, you should be having about 100 fluid ounces of water daily if you weigh 200 pounds. Carrying a reusable water bottle with you can remind you to take sips throughout the day.
Stretch
There are many causes for sciatic nerve pain, and one of them is tightness in your lower back or legs. Stretching properly can loosen these muscles and give you more range of motion without causing pain. One effective stretch involves lying on your back and pulling your knee as close to your body as possible. Hold for 10 seconds and then release and repeat with the other leg.
Visit Your Chiropractor
Unlike some other medical professionals who are eager to perform invasive procedures, your chiropractor takes advantage of your body's own healing mechanisms. This professional can guide you back to better function through adjustments, teach you stretches to do at home, and other techniques to keep sciatic nerve pain to a minimum.
Ultimately, treating sciatic nerve pain doesn't necessitate surgery or some other invasive procedure. By working with your chiropractor and doing these other things, you can resolve the problem naturally.
About the Author
At AlignRight Chiropractic, Dr. Zinovy Chukhman helps patients with all kinds of alignment issues. Proficient in many treatment protocols, he can treat most ailments according to the patient's individual needs and the severity of the pain. If you have sciatica, you can schedule an appointment with Dr. Z, as he prefers to be called, by calling our office at 972-907-2800 or clicking here.
Schedule your appointment today!
Fill out this form and we will contact you shortly!