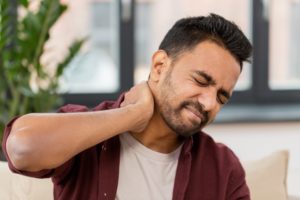 At first, you thought you could ignore the discomfort. Your neck has been hurting for a while now, but you have been muddling through. Your partner tells you to see a chiropractor for your chronic neck pain, but you're wondering whether it's really a big deal. Keep reading for five reasons why your shouldn't ignore this pain anymore!
Neck Pain May Lead to Headaches or Back Pain.
Your neck serves a crucial purpose—it holds and stabilizes your head and the upper portion of your spine. And when you think about it, it is a small area for such an important job! If you don't address pain in your neck, it can affect your upper or lower back or give you headaches, which can be even more impairing than the neck pain alone.
Loss of Mobility Can Hinder Everyday Function.
If your solution to your neck pain is simply to avoid triggering pain, you may find that everyday activities are suddenly much more difficult. Whether you're turning your head to look at another screen or watch for pedestrians as you drive, you need to have mobility in your neck. Otherwise, you could not only face inconvenient, quality of life issues but also become a danger to yourself and others around you.
Neck Pain May Not Go Away on Its Own.
Even if your neck pain is the result of an awkward night of sleep, it could linger for several days or even longer. If you're still struggling with neck pain after a few days, it's time to consult a professional and get your neck checked for a serious problem.
Neck Pain May Lead to Permanent or Lasting Damage.
The proximity your neck has with your spinal column means that compression or strain in this area can cause nerve damage. What may start as a small compressed nerve in your neck may progress to tingling in your hands and arms. If left untreated, you could even lose function and develop a long-term disability!
Treatment Is Simple.
Perhaps you're not addressing your chronic neck pain out of fear that treatment will be extensive or invasive. But the truth is that both muscle strain and nerve compression can be treated with a chiropractor, who specializes in relieving pain. Through adjusting the alignment of the spine, pressure can be taken off the nerve or muscles can become less inflamed and relaxed enough to heal.
In the end, you don't have to suffer needlessly. Take care of your neck pain sooner rather than ignoring it so that you can enjoy the benefits of a functioning, happy neck again!
About the Author
Dr. Zinovy Chukhman likes to go by Dr. Z. After graduating from the Parker College of Chiropractic in Dallas, he has become certified by the nation Board of Chiropractic Examiners, a distinction that few chiropractors have. If you have been experiencing neck pain, you can contact AlignRight Chiropractic online or call the office located in Richardson at 972-907-2800.
Schedule your appointment today!
Fill out this form and we will contact you shortly!