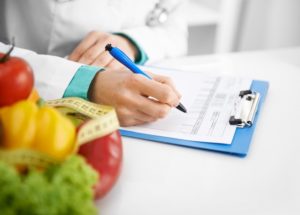 You try to eat vegetables and fruit every day, but perhaps you do not know which foods are best for losing weight for your body type. Maybe you just got pregnant and want to provide the best nourishment for you and the baby. Fortunately, there's a professional who can help you in many situations—a registered dietitian! Here are just five of the top reasons why you may need to visit with this provider.
You Think You Have an Allergy or Intolerance
Food allergies and intolerance can manifest in various ways, but a registered dietitian can help you determine whether your symptoms indicate allergies, dairy intolerance, or gluten intolerance. Then, they can give you the knowledge and tools you need to avoid these foods in your meals and snacks to feel your best.
You Aren't Having Regular Bowel Movements
Most doctors will agree that you should have one or two bowel movements every day; however, if you aren't getting the kind of nutrition you need, it you could skip days. Constipation can not only be uncomfortable or even painful but also make you look and feel bloated and heavy. Correcting your diet with a dietitian will help you become more regular and get rid of waste more efficiently.
You Want to Lose Weight Effectively
Most diet trends only last perhaps a year before the weight comes back—if they work at all! If you want to drop extra pounds and keep the weight off, a dietitian can equip you with personalized advice, provide support, and even give you recipes that can lead to burning fat and building lean muscle.
You're Stressed or Eating Your Emotions
Life can be stressful, and regardless of your mental health, food can be associated with comfort and feeling better. Whether you're anxious, happy, or sad, you don't have to resort to excessive sugar, fat, or overeating. Your dietitian, as well as a therapist, can help you work through emotions in a healthier way.
In addition, when you enter a new life stage, such as pregnancy, being diagnosed with diabetes, or training for a marathon, a dietitian can clarify what you should and shouldn't eat in order to stay healthy and strong.
You Have High Cholesterol
You may be thinking about which foods could lower or raise your cholesterol, but a dietitian can educate you so you can make healthier choices. As a result, you may be able to control your cholesterol without having to take medication or as many medications.
In the end, almost anyone can benefit from meeting with a dietitian! This professional can identify the foods that can help you achieve your health goals, give you energy, and have a better relationship with food.
About the Practice
AlignRight Chiropractic is focused on more than just relieving back, neck, and other pain. We aim to help patients achieve total wellness, which is why we have a registered dietitian on staff. Our team looks forward to getting to know you and your lifestyle more so that we can recommend ways to be healthier and happier in terms of your nutrition and diet. To schedule an appointment with our dietitian, you may call our Richardson office at 972-907-2800 or visit our Contact Us page here.
Schedule your appointment today!
Fill out this form and we will contact you shortly!