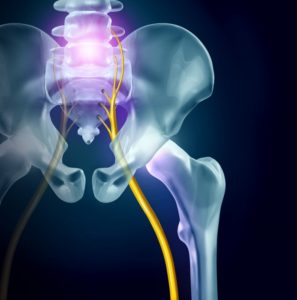 Your lower back is killing you! You've had aches and pains before, but it seems different this time. You even feel pain in your leg and in your buttocks. Is it just typical lower back pain, or could it be something more serious? Among other possible issues, sciatica could be causing your discomfort. How do you know if your sciatic nerve is being compressed or pinched? Read on to find out!
The Pain Is Chronic.
Some aches and pains are just temporary—like after you lift something heavy or you sleep "funny." Often these pains go away on their own with time. However, if your lower back pain persists or returns repeatedly, it may point to a more serious spinal condition leading to your compressed sciatic nerve. Unfortunately, whatever is causing your sciatica, it cannot be rectified without treatment.
You Feel Pain or Numbness in Your Buttocks or Legs.
Unlike other forms of back pain, sciatica often extends into the buttocks or into the legs. That's because the sciatic nerve is located near the base of the spine and travels down into these other body parts. As a result, it can be easy for patients to mistakenly think the problem lies in the leg and not the spine. A visit with your chiropractor in Richardson can ensure that the real issue is properly diagnosed and treated to alleviate your pain.
The Pain Is Sharp.
Any type of pain isn't fun to endure. However, it can give clues as to what the problem is. If you experience a dull ache, the culprit may likely be sciatica, which directly impacts a sensitive nerve. On the other hand, if you have a sharp, shooting pain, sciatica could very well be the reason behind it. Other common descriptions include "burning" or "stabbing jolts" of pain.
You Have a Spinal Disorder or Another Common Cause.
Spinal disorders can create problems with the sciatic nerve, including having a narrow spine (called spinal stenosis), spinal tumors, slipping vertebrae (called spondylolisthesis), and more. Other causes of sciatica include a ruptured, herniated, or bulging disc, which can result from an injury. Sciatica is also more common for those who are overweight or obese or who have a sedentary lifestyle.
You Need Pain Medication for Your Back Pain.
If your discomfort reaches the point where you feel the need to take pain medication, especially prescribed, then it is time to consider sciatica as a possible source. Although being on pain medication for lower back pain doesn't automatically mean that you have sciatica, consistent use definitely indicates a more serious underlying problem.
If you have lower back pain, you don't have to suffer alone. Try to recognize the signs of sciatica so that you can seek help and get relief sooner without the use of medication. Turn to your chiropractor, who is a specialist in this type of issue. They can give you a clear diagnosis and help realign your spine so that the nerve isn't compressed anymore.
About the Author
With more than 20 years of clinical experience and training at AlignRight Chiropractic, Dr. Z has received all four parts of the National Board of Chiropractic Examiners instruction and is NBCE Physical Rehabilitation certified. He is skilled in many treatment techniques, including those used to treat sciatica. To schedule an appointment with Dr. Z or have questions about sciatica, you can contact him by visiting AlignRight's website or by calling 972-907-2800.
Schedule your appointment today!
Fill out this form and we will contact you shortly!