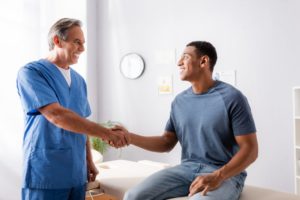 Toward the end of a long day at work, you feel that familiar ache in your back, and you realize that you can't carry on this way. When you talk to a friend about your pain, they suggest you see a chiropractor. You've tried other ways to get relief without success, so perhaps you're a little skeptical to give it a try. But chiropractic care offers benefits that other solutions don't. Keep reading to learn about just four of them!
Benefit #1: Less Neck and Back Pain
Chiropractors are best known for their ability to relieve back and neck pain. Whether you've been in a car accident, you've slept funny and have a sore neck, you have frequent headaches, or you face chronic pain in your joints from sitting at a desk, a chiropractor can release tension in your muscles, realign your spine, and correct the issue.
Although they can often make huge strides in the right direction in a single visit, it is important to note that the effect chiropractors can have usually requires time. This means that while you may feel significantly better after just one appointment, you will experience more complete pain relief with more consistent treatment.
Benefit #2: No Need for Addictive Opioids
Unfortunately, many people and medical doctors have become dependent on opioids and other drugs to manage pain. They may initially take away the discomfort, you can easily become addicted and crave a higher dose, especially after surgery or significant injury. However, unlike pain medications, which just mask the symptoms, chiropractic care actually addresses the source of the problem.
By restoring proper alignment, chiropractors use the body's own natural processes to heal itself, alleviating pain without having to resort to more invasive measures.
Benefit #3: More Affordable Than Other Treatments
In addition to being ineffective and addictive, pain management drugs can get expensive over the years, costing thousands of dollars. If your doctor tells you surgery is necessary, your costs can also rise fast! In contrast, chiropractic care is much more reasonably priced.
Benefit #4: Better Posture
When you meet with a chiropractor, they certainly focus on fixing your existing problems, but they also can teach you proper posture so that you can avoid hurting yourself again in the future. Although you can't prevent all injuries or relapses, learning how your body should be situated when you stand, lift, or sit can drastically reduce your risk of recurring discomfort.
As a bonus, good posture can make you look healthier and slimmer as well!
Clearly, the potential benefits of chiropractic care far outweigh any hesitation you may have about trying this treatment. Take that next step and get started with a qualified chiropractor today!
About the Author
Dr. Zinovy Chukhman has been treating injuries for more than 20 years. After attending chiropractic training at the Parker College of Chiropractic in Dallas, TX, he has continued to hone his skills by becoming certified in all four parts with the National Board of Chiropractic Examiners. If you are interested in scheduling an appointment with Dr. Z in his Richardson office, you can reach out by calling 972-907-2800 or contacting us online.
Schedule your appointment today!
Fill out this form and we will contact you shortly!