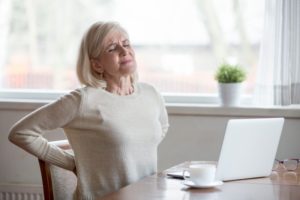 You're on a deadline at work. You stay seated at your desk for days at a time, furiously working to get your project done on time. After you're finished, you can finally relax only to feel your lower back and legs start to hurt—badly!
You could have sciatica, a condition where the sciatic nerve is compressed. This nerve is located in the lower back near the tail bone and extends into the buttocks and back of the upper legs. But what triggers sciatic nerve pain? Why is it acting up now? Keep reading to find out!
Sitting Too Much
If you're like most professionals these days, you may find yourself sitting for several hours while you work. However, staying in sitting position puts extra pressure on your sciatic nerve. In fact, if you've ever lost feeling in your buttocks during a car trip or sitting in the same position for a long time, it could be because of sciatica!
The simple answer to this problem is to stand more often throughout the day. Try to stand up and walk around for a few minutes every hour to alleviate some of this pressure. On road trips, stop every two hours for about 10 minutes to stretch your legs. Understanding more about ergonomics, many companies nowadays are willing to provide stand-up desks, allowing you to take longer breaks from sitting without losing productivity.
Wearing Certain Shoes
Those high heels may make your legs look fabulous, but they could be triggering your sciatica. They, along with other uncomfortable shoes, provide very little support for your lower back, where the sciatic nerve starts.
You can find stylish shoes that are easier to walk and stand in and have the necessary support you need. If you choose to wear high heels or other shoes, despite the pain that they can cause, consider wearing more comfortable shoes and changing into your statement shoes to shorten the amount of time you're in them.
Being Overweight
Whether you've recently put on weight or been a little heavier all your life, excess pounds can increase the pressure on the sciatic nerve, especially as you get older.
Be sure you stay active and flexible. Strengthening your core and legs, as well as stretching regularly, can help! Regardless of whether you lose weight, keeping your body strong can help ease the strain on the tissues around this nerve.
In the end, you may not stop all sciatic nerve pain, but these triggers are—to a certain extent—within your control. As you work with a chiropractor and do your best to stay away from triggers, you can reduce your discomfort and overcome sciatica!
About the Author
As an expert in the chiropractic field, Dr. Zinovy Chukhman specializes in neuromusculoskeletal conditions and is proficient in many treatment techniques and protocols, including Graston, diversified, and Thompson. His primary goal is to help patients find relief from pain and live healthier lifestyles. If you need to schedule an appointment with Dr. Z, you may contact AlignRight Chiropractic by calling 972-907-2800 or clicking here.
Schedule your appointment today!
Fill out this form and we will contact you shortly!